Give your child the best opportunity to develop academically, spiritually and socially.
St Bernadette's Primary is a Catholic coeducational school that was founded by the Sisters of Mercy and was established in 1956. In living out the values of Christ, our school celebrates the uniqueness of each person and affirms the dignity of each individual. This is reflected in the way our community is taught and encouraged to promote the Gospel values of justice, respect, empathy and compassion.
We are committed to providing each student with a learning environment that is comprehensive, inclusive and challenging. Located in Castle Hill, we are a dynamic community which seeks to live out the values of Christ in a caring and supportive environment.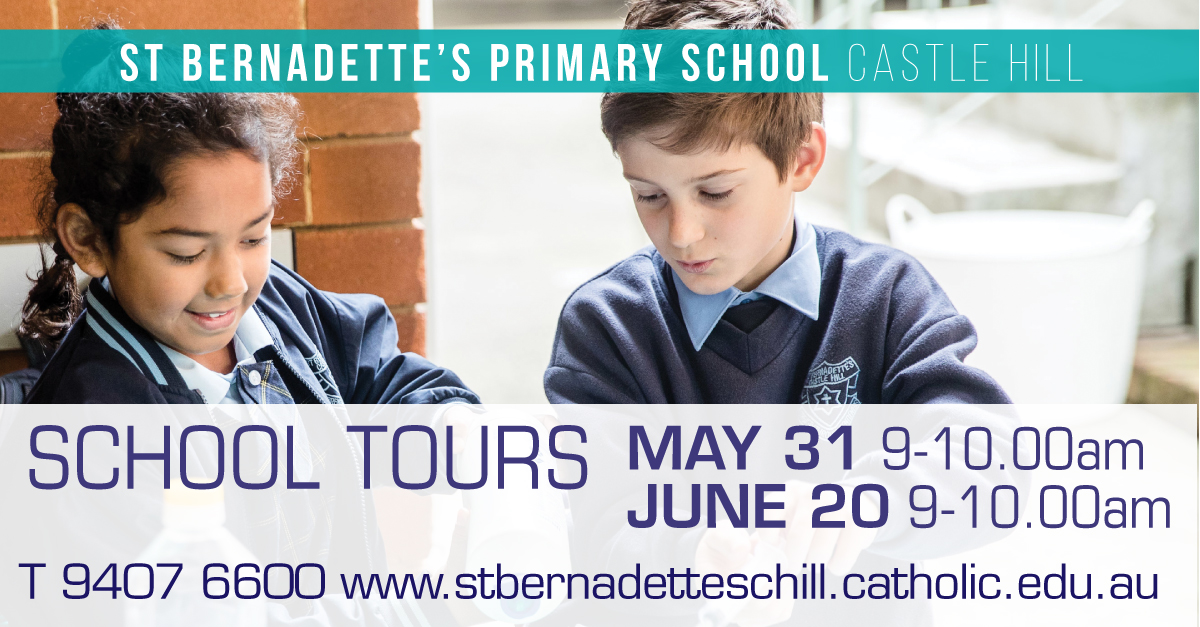 ---
A Contemporary Vision
At St Bernadette's, we aim for excellence in teaching and learning and to provide children with many and varied opportunities to experience personal excellence as they grow and develop in our care. We emphasise:
providing for the 'whole' person - spiritually, socially, physically, emotionally, culturally and intellectually, based on the Gospel values
opportunities to experience success and learning at an individual level
helping children experience God's love in an environment of prayer, support, celebration and belonging, which will nurture their faith
---
Preparing leaders for the future
Students at St Bernadette's have many opportunities to develop leadership skills and to take their place as the leaders of tomorrow.
We develop in our school leaders a desire and ability to reach out to those in need, both within and outside our school community. They engage in a variety of activities that display and develop their leadership qualities. Our fourteen-strong student leadership team is responsible for many of the school activities and events throughout the year.
---
21st Century Learning
St Bernadette's Primary is a place where curiosity, imagination and love of learning are treasured. Our school is full of great teachers working together to meet your child's needs in spaces that are designed for up-to-date learning. There are places for students to work together and for working independently.
There are also places where the latest state-of-the-art technology and well-designed facilities support your child's learning.
St Bernadette's Primary is a community of learners, thinkers and achievers, and a safe place for your child to belong, make friends and be cared for.
---
Extracurricular Activities
Students at St Bernadette's Primary are provided with a wide range of activities that allow them to develop as young people with a range of interests and abilities.
These activities include academic, extracurricular and sporting activities which are supported by committed staff who believe in the importance of educating the whole person. The interests and talents of students are nurtured in a wide variety of activities. Some of these include:
Voice of Youth Pubic Speaking competition
external tuition for players of instruments
the Hills Interschool Debating Competition
drama
sports gala days
ICAS competitions
a range of carnivals
---
Before and After School Care
Need your child minded after 3pm and you're working?
Need to get to work and have to drop off your child before school starts at 8am?
Fear not... help is at hand!
Operating from 6:45 am to 8:45 am and from 2:45 pm to 6:15 pm, St Bernadette's Before and After School Care (OOSH) provides an interesting, caring and safe environment for St Bernadette's students.