When Andrew Losurdo signed up for a traineeship with the Catholic Education Diocese of Parramatta and TAFE to complete Certificates III and IV in Information Communication Technology, he never expected to end up being recognised as the 2019 Western Sydney Trainee of the Year.
"When I was completing my HSC at Marian College Kenthurst I had no idea what I wanted to do. I applied for the traineeship because a friend of mine recommended I give it a go. I never expected that I would get in to the program!'' Andrew said.
However, not only did he get an interview, his friend did too. "I found out I got accepted for the traineeship in the middle of doing my HSC exams, which was very reassuring and took a lot of the stress off me,'' Andrew said.
Andrew has always had an interest in technology, but never thought he could make a career of it. In fact, after completing his HSC he did get an offer to do a Bachelor of Science.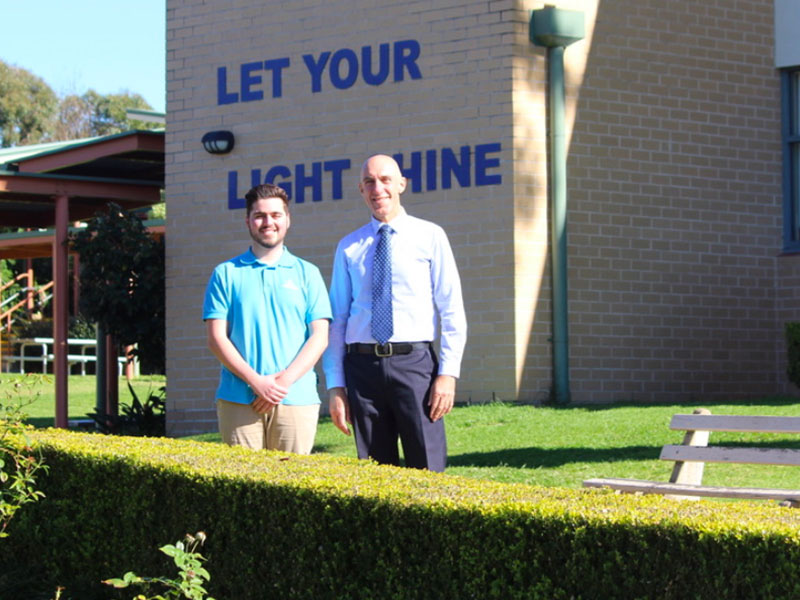 Andrew is currently in the second year of his traineeship and works full-time at his former primary school St Angela's Primary Castle Hill, while completing his TAFE studies during the school holidays.
His role at the school sees him as the 'IT guy' everyone can go to for help and advice. "I do a lot of troubleshooting, work on the management of IT for teachers and students and communicate with staff on all the school's IT requirements,'' he said.
"It has been really interesting for me to come back to my primary school and view it from a different perspective. My last memories of St Angela's were as a primary school student. Now I am working with the teachers and around 90% were here when I was!"
"My favourite part of working at the school is being able to interact with the students. In fact I have a few regular clients (aka students) who like to come in and ask me questions about their computer and devices in class. It is good to have that relationship with everyone because it makes it a lot easier in the work I do for the school,'' he said.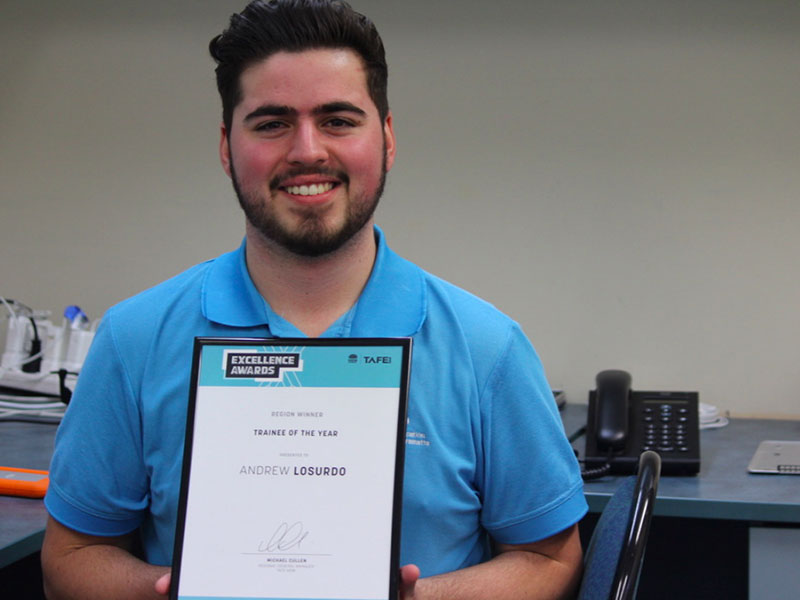 Andrew said he has found doing his traineeship with CEDP and TAFE has been a very smooth process. In fact it was one of his TAFE teachers, Nalphky Lim, who nominated him for the Western Sydney Trainee of the Year Award.
"It is amazing and I feel so fortunate to have been nominated by my teacher. I think this traineeship program has so many benefits as it not only recognises your experience through work, but also gives you the opportunity to match that work experience with study at the same time. I believe face to face work experience needs to be valued more,'' Andrew said.
He recommends other students consider doing the traineeship program as it is "the best of both worlds''. "You get qualified and a certificate to back you up,'' he said.
---
Catholic Education Diocese of Parramatta is hosting information evenings on its traineeship programs on August 6 and 7 at the Aengus Kavanagh Centre, from 4pm to 6pm.
Learn about ICT Traineeships
Register your interest